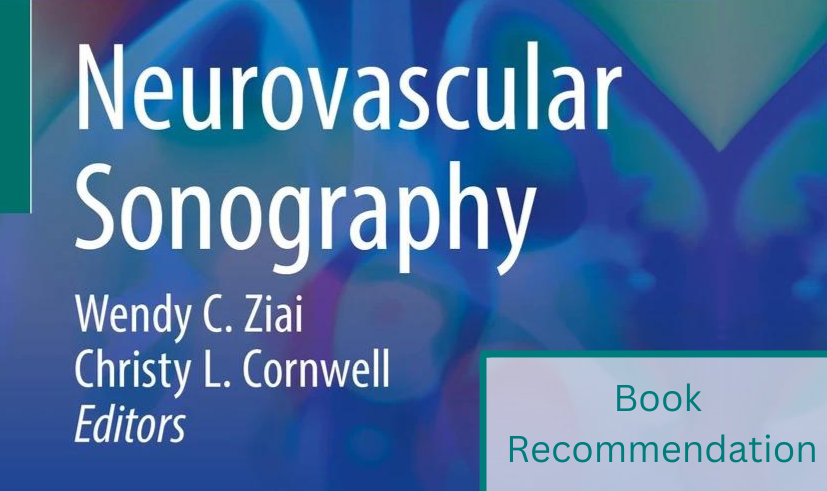 21 Nov 2022

Neurovascular Sonography – A book recommendation
TCD is the doctor's stethoscope of the brain
Comprehensive collection of all current clinical applications of TCD Neurovascular sonography with the potential to become a standard work. A successful mixture of clinical indications and practical application.
TCD continues to be the doctor's stethoscope of the brain. – Aarti Sarwal
Neurosonology has become an important tool in diagnostics in critical care. Nowadays, Neurovascular Sonography is considered a discipline, with applications increasingly being used for a variety of neurological conditions. The book "Neurovascular Sonography" describes a comprehensive overview of the basic concepts and clinical indications for transcranial Doppler sonography (TCD). It includes both the physical principles of ultrasonography associated with TCD as well as given on neuroanatomy and cerebrovascular physiology in both healthy and diseased states. The protocols recommended therein can serve as a guide for existing neurovascular laboratories among others, discuss the most common, relevant, and challenging clinical conditions in which TCD is used to support patient management.
Practical tips and tricks gained from the authors' years of experience enrich the implementation of the concepts and protocols presented in "Neurovascular Sonography", providing, with this collection of medical application areas, a thoroughly practical implementation for everyday clinical practice. Specialists and neurosonologists can be informed about best practices for TCD acquisition and interpretation.
TCD is a pioneer imaging modality in neurology and is still considered the "stethoscope to the brain" among TCD experts…. With this book, the authors hope to promote education and research, as there is still so much to learn in the field of cerebral hemodynamics, where TCD as a standard tool can provide good insights.
Book details
Title: Neurovascular Sonography
Editors: Wendy C. Ziai, Christy L. Cornwell
Publisher : Springer; 1st ed. 2022 Edition (18 August 2022)
Language : English
Paperback : 555 pages
ISBN-10 : 3030968928
ISBN-13 : 978-3030968922
Dimensions : 2.54 x 2.54 x 2.54 cm