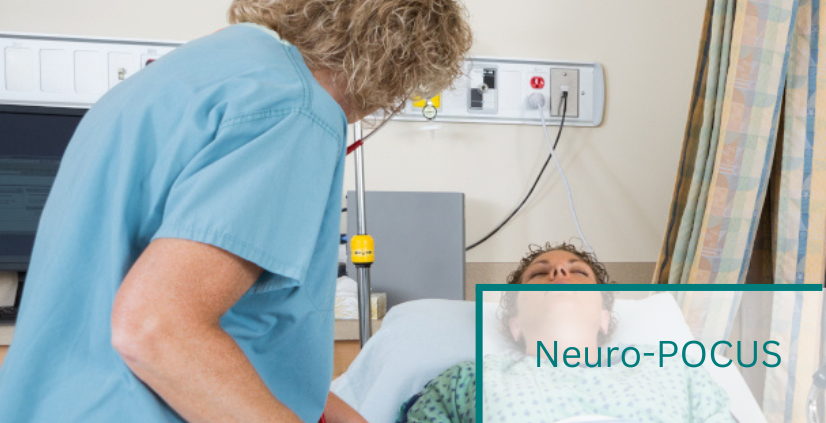 16 Feb 2023

Neuro-POCUS
Point-of-Care Ultrasound in Neurology
Neuro-POCUS (Point-of-Care Ultrasound) is a concept of a new working group, a joint project by the European Academy of Neurology Scientific Panel Neurosonology, the European Society of Neurosonology and Cerebral Hemodynamics, and the European Reference Centers in Neurosonology (EAN SPN/ESNCH/ERNsono).
The concept of Neuro-POCUS describes the performance of ultrasound by the clinician in charge of the patient's therapy on-site, regardless of where he or she may be located. The goal of Neuro-POCUS is directed/focused portable ultrasound examination of the head, neck, and/or musculoskeletal system, performed at the patient's bedside or where the patient is being observed/treated, in order to obtain a prompt answer to a specific clinical question related to neurological symptoms in real time for guiding diagnostics (e. g., symptom-based examination) and treatment.
The need for a rapid answer to a clinical question applies to various acute neurological conditions, and especially since the COVID-19 pandemic the need for neurosonological diagnostics at bedside has increased in order to meet hygienic concepts to minimize the risk of virus transmission.
Transcranial Doppler, which was previously described as "the doctor's stethoscope of the brain" can play an important role in many critical neurological acute diseases, such as stroke, subarachnoid hemorrhages, traumatic brain injuries and intracranial hypertension leading to brain death. It has the flexibility to be performed everywhere, is cost effective and allows to receive an immediate answer. Thus, it is a perfect tool to be used for Neuro-POCUS.
Reference
Online ahead of print.PMID: 35512836
Point-of-Care Ultrasound in Neurology – Report of the EAN SPN/ESNCH/ERcNsono Neuro-POCUS Working Group
Valaikiene J, Schlachetzki F, Azevedo E, Kaps M, Lochner P, Katsanos AH, Walter U, Baracchini C, Bartels E, Školoudík D. Point-of-Care Ultrasound in Neurology. Report of the EAN SPN / ESNCH / ERcNsono Neuro-POCUS Working Group. Eur J Ultrasound 2022 May 5. doi: 10.1055/a-1816-8548.